We are small, in home breeders located in Toronto, Canada. Together, we have been involved and breeding and showing Bull Terriers for over 25 years.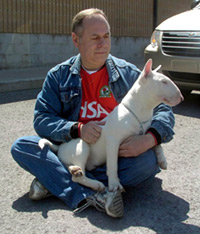 Brian's first bull terrier was purchased many years ago as a family pet. Soon afterwards, he became involved in showing and breeding and owned: CH Bullyrook's One Night Stand ~ "Stanley", Bretwalda's Gloria Mundi ~ "Certs", Mayhem's Mad Mavis ~ "Maggie", Mayhem's Miss Doreen Doreen ~ "Doreen" and Ann Dee's Glorious Moment ~ "Erin".
In 1991, Ann purchased CH Southwell's Tess D'Arbeville ~ "Tess", also originally as a pet, although she did achieve her championship. After that Ann owned: CH Action Taylor Made ROM ~ "Taylor", CH Jarrogue Good Golly Ms Molly ROM ~ "Sara", CH Action As Iz ROM ~ "Izzy" and Action Mr. President ~ "Clinton".
Together in 1998 we were lucky enough to obtain CH Knucklehead Intruder ~ "Jörge" and in 1999 we purchased CH Bullyrook Pipe Dream of Mayhem ROM ~"Piper", who formed the current foundation of Mayhem.
We promote health testing and sound temperaments as we believe that those people who purchase bullies from us should be guaranteed healthy dogs who become permanent, happy members of their new families.
Please take a look at our pages and meet our dogs!

Sign up
If you wish to receive latest updates subscribe to our newsletter!
&nbsp